This is one of our most common asked questions "do I need a building permit for this project" there has been a lot of conflicting answers to this question, a common response we hear is the other guy quoting the job said I don't need a permit or that I should apply for the permit under my own name.
The reason for this is generally simple, a fellow contractor will not be registered & can't enter into contracts that exceed $5000 so needs the client to use their own name as the project builder & wear all the responsibility for the project.
Permit types
Building permits
Most structural projects will trigger the need for a building permit.
Planning permits:
These are different from a building permit & are required when the proposed project falls outside the standard council guidelines. Before a building permit can be processed the planning permit must first be approved, this can slow the construction process so where possible we will discuss options with the client to possibly change the project design so it complies with the standard council guidelines & negates the need for the planning permit. This is not possible for every project so when required we can take care of the planning permit process on behalf the client.
Owner builder
When purchasing our material only kits for self installation we can still assist clients with the permit process, we offer the same rapid turnarounds as our full supply & install service only now the client will be listed as the builder, this saves clients all the headaches of dealing with council themselves.
Being fully registered builders we at Ultimate Patios can navigate the entire permit process for our clients, we offer a prompt & efficient service designed for fast turnarounds, standard building permits are approved generally in 1 week.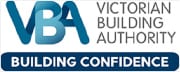 If unclear on any of the obligation required in this process we recommend contacting the Victorian Building Authority on 1300 815 127 or your relevant council directly.